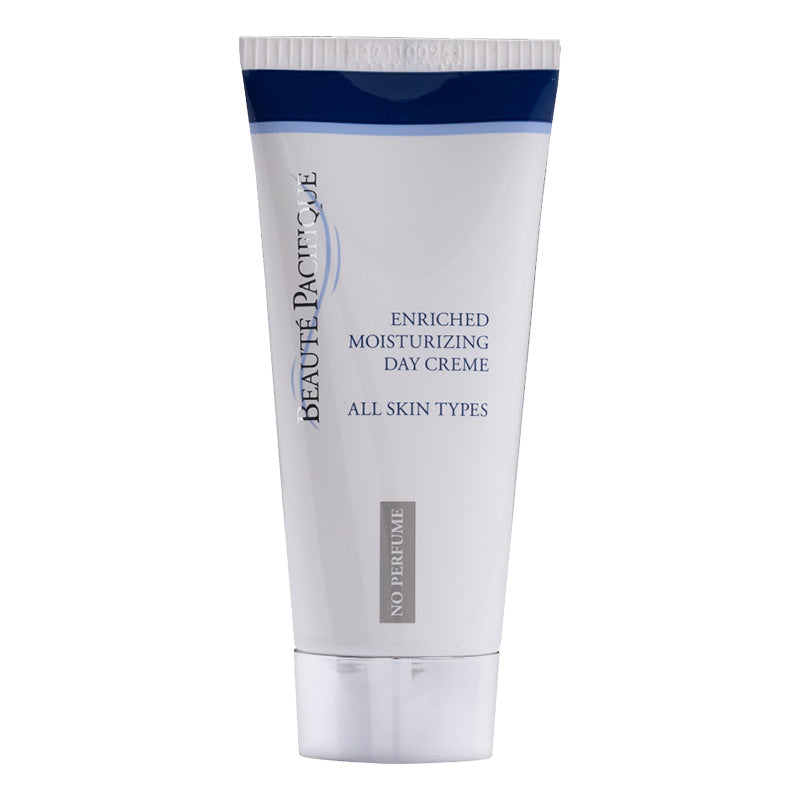 NO PERFUME | ENRICHED MOISTURIZING CREAM ALL SKIN TYPES | 50 ml
100% Money Back Guarantee!
Piegāde 1-3 darba dienu laikā!
Beauté Pacifique ENRICHED MOISTURIZING CREAM ALL SKIN TYPES | NO PERFUME | 50 ml
Mitrinošs sejas krēms | bez smaržas | 50ml
Skvalāna eļļa ir daļa no Tavas ādas. Šis krēms ādai to atgriezīs, un vienlaicīgi ādā nogādās C un E vitamīnus, kas mīkstinās ādu, liks tai mirdzēt un būt aizsargātai no izžūšanas.
Lietotāja, skaistumkopšanas blogere no Latvijas: "Šis ir viens no visu laiku labākiem mitrinātājiem, kas izglāba manu ādu pagājušās ziemas sausuma periodā – Enriched Moisturizing Creme šajā vasarā tika iegādāts atkārtoti, brīdī kad mana āda sadumpojās."
Iesakām lietot rītos, taču arī vakaros āda būs par to pateicīga. 
Krēms ir vegāniem draudzīgs, bez izteiktas smaržas, ar krēmīgu un vieglu tekstūru.
Piemērots lietošanai virs serumiem.
Vairāk par produktu
Beauté Pacifique Enriched Moisturizing Creme - intensīva ādas mitrināšana ar koncentrētu dabīgo skvalāna eļļu, kas sniedz ādai ilgstošu mitrinošu iedarbību un nogādā dziļi dermā C un E vitamīnus.
Tā sastāvā esošie antioksidanti aizsargā ādu no brīvajiem radikāļiem un palēnina ādas novecošanos.  
Satur tāda īpaši mitrinošas vielas, kā hialuronskābe, alveja, glicerīns un medicīniski attīrīts lanolīns. Papildus šis krēms sniedz vieglu aizsardzību no kaitīgās ultravioleto staru ietekmes.
Var lietot kā dienas/nakts krēmu vai vienu pašu vai kopā ar Anti-age krēmu vai serumu.
Galvenās sastāvdaļas
Sastāvdaļas