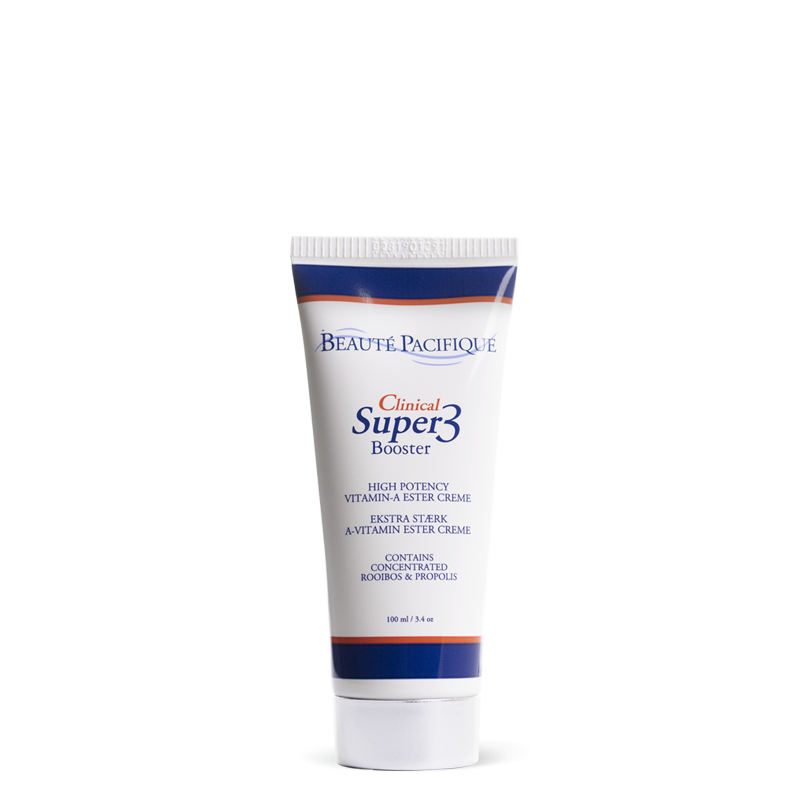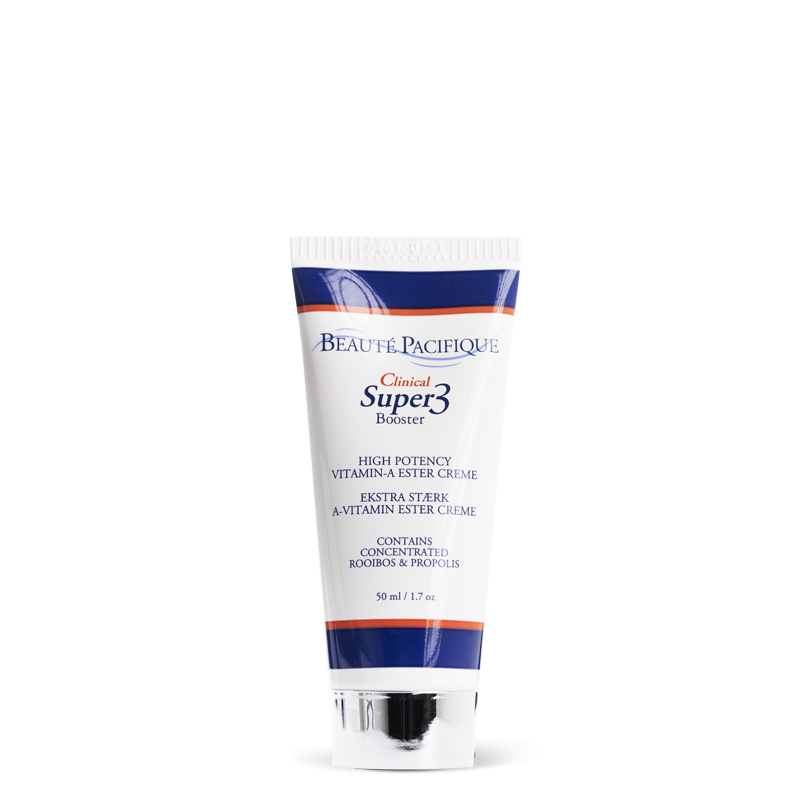 Vitamin A Night Cream | Clinical Super 3 Booster, 50-100 ml
Reduce oiliness and regulates sebum
Rejuvenates lost collagen and sun damage
Fights pimples and infections
100% Money Back Guarantee!
Delivery within 1-3 business days!
Extra Strong A-Vitamin Ester Cream, 50-100 ml
Beauté Pacifique Clinical Super3 Booster is a very strong, yet gentle, high-concentration A-Vitamin ester cream that is very effective in rejuvenating the skin and limiting the formation of further skin damage:
For thin and transparent skin
For sun-damaged and aged skin
For inflamed skin
For oily skin
For acne
The result is a smoother skin surface with clearly visible rejuvenation and deep structural improvements.
Clinical Super3 Booster contains 3 effective and particularly stable Vitamin A esters in high concentration, which provide an extremely strong anti-aging / skin regeneration effect. The collagen structure is regenerated throughout the depth of the dermis, so mimic lines and wrinkles become less visible. The cream also strengthens the skin and it becomes firmer, more flexible and more capable of protecting itself from the negative effects of the external environment.
Clinical Super3 Booster is very well suited to care and restore skin with rashes/liver. Three sebum-regulating ingredients reduce any excess sebum production. The natural antibiotic and allergen-free Propolis gives the cream anti-bacterial properties. It limits the formation of dirty skin lesions such as infections and associated scarring.
Clinical Super3 Booster also contains a large amount of Rooibos extract, widely known as the South African women's health tea. Hordeum Vulgare Cera / Barley grain wax is added to reduce any signs of inflammation.
Dr. Ekaterina Pudova - "Beauté Pacifique Clinical Super3 Booster contains three effective and particularly stable vitamin A esters in a high concentration, which provides a pronounced rejuvenating effect with excellent tolerability. In the range of retinol products, this cream is beyond the competition."
In Clinical Super3 Booster, as in our other vitamin A products, the effective vitamin A is in a stable form of esters, so it is not photosensitive and – unlike most products with vitamin A in its composition – can be safely used even in summer. The active ingredients of the cream penetrate into the deeper layers of the skin, promoting the formation of new collagen and making the skin firmer and plumper. To prove that Clinical Super 3 Booster really significantly rejuvenates the skin, Beauté Pacifique offers a free ultrasound skin diagnosis before and after three months of using the cream.
Main ingredients
3. Squalane is an oil that occurs naturally in human skin and is an important component of the lipid system. This oil has a very high absorption capacity. The nanometer droplets of squalane act as efficient "transporters" of vitamin A and other oil-soluble active ingredients. Young and healthy skin contains a large amount of squalane, but it rapidly decreases with age. Because of this, squalane is perfectly absorbed into sun-damaged and aged skin. Lack of squalane in the skin causes premature aging, very dry skin and loss of elasticity. Parts of the skin frequently exposed to the sun's rays, which are constantly exposed, dry and prematurely aged, such as the hands, elbows, heels, knees, etc. becomes incredibly soft and supple as soon as squalane oil is applied.
9. Lanolin plays an important role in maintaining the skin's moisture balance and provides a fine-textured skin surface, especially when used with squalane. With this product, previous problems associated with lanolin allergies are minimized due to its pharmaceutical grade purity.
14. Tocopheryl Acetate is a form of vitamin E that plays an important role in protecting both skin and products from the damaging effects of free radicals.
15. Hordeum Vulgare Cera (Spent Grain Wax) has an anti-inflammatory and soothing effect on skin that is easily irritated and reddened.
One of the best night creams there is
Skin feel very soft and firm in the morning. Even though its vitamin A cream, doesn't irritate my skin at all, I have quite sensitive skin.
Iegādāto produktu esmu uzsākusi lietot nesen. Izsvērtu atsauksmi varēšu sniegt pēc kāda laika, kad būšu sajutusi tā ilgtermiņa ietekmi.
Es lietoju no 1.dec. Nekādu redzamu rezultātu vēl nav. Ap acīm āda kļuva jūtīga.
Labdien! Paldies par novērtējumu! Clinical Super3 Booster ir spēcīgs krēms, tādēļ to iesakam vismaz pirmās 2 nedēļas lietot katru otro vakaru, ļoti mazā daudzumā. Gadījumā, ja parādās apsārtums, tad ieturiet pauzi.. kad jutīgums pāriet, atsākiet ādu iepazīstināt ar krēmu. Vienmēr, lietojot Clinical Super3 Booster - IZVAIRĪTIES no acu zonas. Gadījumā, ja rodas jebkādi jautājumi - droši vienmēr mums rakstiet vai zvaniet! Skaistu Jums Ziemassvētku gaidīšanas laiku! ❤️☃️