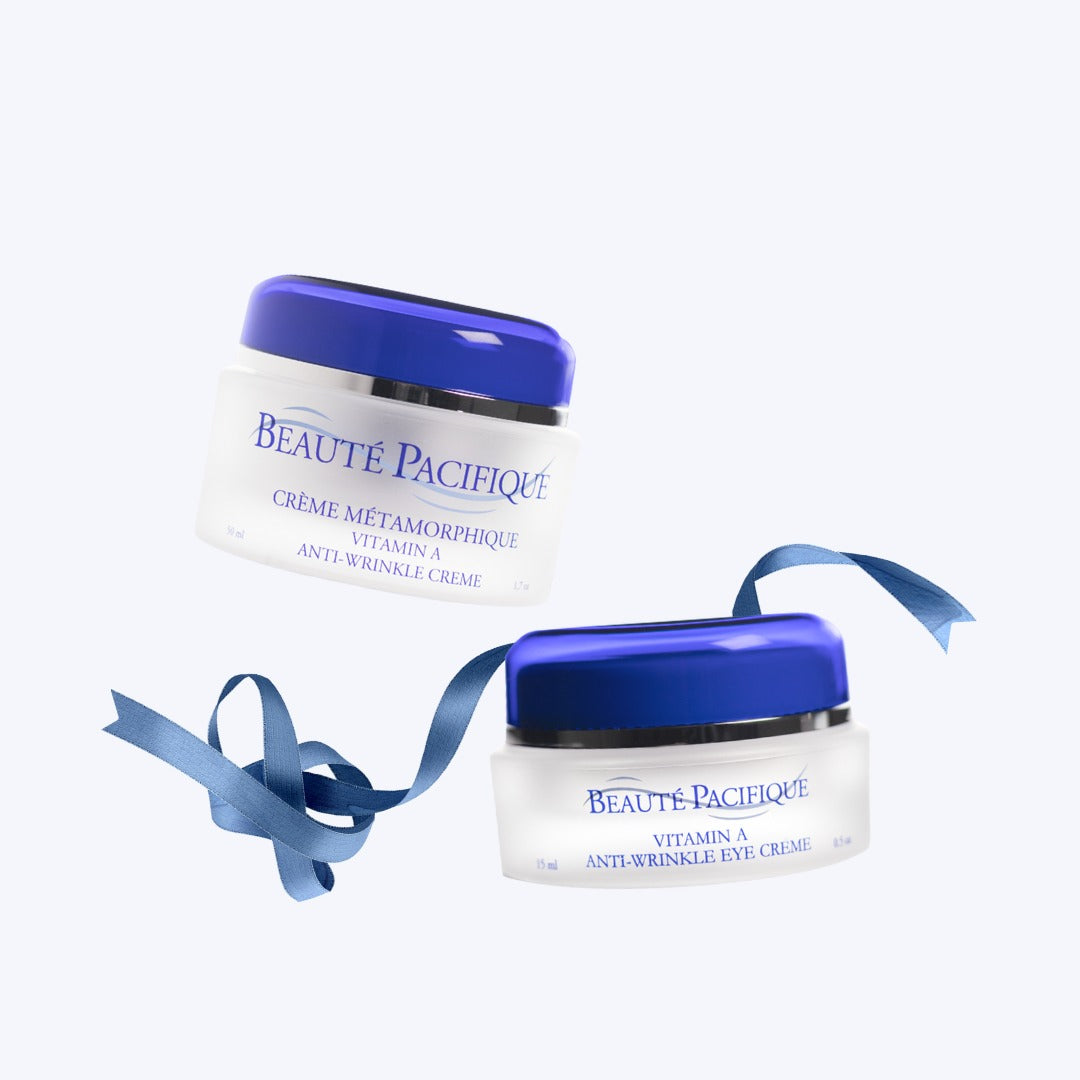 A-vitamin | night set | Creme Metamorphique Night cream + Eye cream
100% Money Back Guarantee!
Piegāde 1-3 darba dienu laikā!
A-vitamin | night | set | Creme Metamorphique Night cream + Eye cream
This set of Beauté Pacifique products is designed to restore thin and sun-damaged skin, but both products are suitable for everyone.
The Metamorphique series are creams that have been scientifically researched and have a proven ability to significantly restore sun-damaged and thin skin within 3 months.
The best way to make sure of the high effect of these creams is to apply for a DermaScan skin diagnosis with one of our specialists - perform a skin diagnosis now and 3 months after use to observe how much your skin will change.
If you want your skin care products to smell nice and have a very silky texture, or if a very beautiful cream jar is important to you, then this set of products will not be the most suitable choice.
However, if you want to use an effective cream that is well absorbed into the skin and whose effects can be seen after a few days of use. If proven effects through scientific research and measurements are important to you, then read more about these products below.
This set of Beauté Pacifique products is suitable for everyone, however, if:
1. Your skin is thin and transparent - or

2. Mimic lines and wrinkles start to appear on your skin - or

3. You start to have pigmentation spots - or

4. You have always liked to sunbathe a lot in the sun or in a solarium - AND

5. You have normal or dry skin type - then
 these TWO products are made for YOU!
Here are some Latvian women's reviews of Beauté Pacifique vitamin A products:

Inuta A. writes to us: "Very high-quality eye cream, the effect is really felt from the first use, the skin feels nourished and moisturized, fine lines are also gradually smoothed out, and it also does not irritate the eyes. You really need the cream if you use the included spoon. I really recommend!"

Svetlana R., on the other hand, says: "I really like the cream. It obviously improves the skin structure. I've been using it for a year and I can only say the best. 🙂👍"
Beauté Pacifique Crème Métamorphique
Beauté Pacifique Crème Métamorphique is recommended for everyone over the age of 25 who wants to reduce the signs of aging and achieve healthy skin. Vitamin A esters, with a patented method of delivery of active ingredients, penetrate into the deepest layers of the skin and restore the lost collagen structure of the skin in a short time.

As a result of use, the skin becomes visibly stronger, more elastic, and the visibility of redness and dark circles associated with thin skin decreases. After 3 months of use, the restoration of the structure of the deepest levels of the skin can be observed during ultrasound diagnostics of the skin. Damage to the skin structure caused by the sun and the aging process is significantly reduced.

The cream's high efficiency is recognized by the world's best dermatologists. It is recommended to use before and after laser procedures. Use at least a month before the procedure will create significantly stronger skin. Using this vitamin A ester cream after the procedure, the skin regenerated significantly faster.
Galvenās sastāvdaļas un to ieguvumi:

2. Glycerin | is one of the best, widely used moisturizing ingredients. It is very well absorbed into the epidermis of the skin and makes the skin soft and tender. This plant-based glycerin can be safely used even on very sensitive skin. By intensively moisturizing the skin, the skin becomes soft and silky smooth. This ingredient is especially suitable for extremely dry and sensitive skin types.
3. Squalane | is an oil that naturally occurs in human skin and is an essential component of the lipid system. This oil has a very high absorption capacity. Nanometer-sized Squalane droplets are effective "transporters" for A-vitamins and other active oil-soluble ingredients. Young and healthy skin contains a large amount of Squalane, but with aging its amount decreases rapidly. For this reason, Squalane is perfectly absorbed by sun-damaged and aged skin. Loss of squalane in the skin can lead to premature aging of the skin, very dry skin and loss of skin elasticity. Parts of the skin that are often exposed to the sun's rays, which are dry and show signs of premature skin aging, such as hands, elbows, heels, knees, etc. become incredibly soft once properly formulated Squalane is applied.
10. Lanolin | (purified medical quality) plays an important role in maintaining the moisture balance of the skin and contributes to the formation of an extremely soft skin surface, especially when used in combination with Squalane oil. Previously known problems with allergies caused by Lanolin are minimized in this quality of Lanolin. The Lanolin used in our products is medically purified from all allergenic impurities.
15. Tocopheryl Acetate | is a form of vitamin E that plays an important role in the protection against free radicals, both the skin and the product itself and its valuable composition.
17. Retinyl Palmitate | is an ultra-stable form of vitamin A, which we formulate in our creams in a way to maintain their highest potency, both during application and when applied to the skin. Encapsulated in nanometer-sized squalane droplets, vitamin A is able to penetrate deep into the skin in sufficient quantities to stimulate the cells that synthesize the lost collagen fiber structure and rejuvenate the skin. Wrinkles and expression lines are reduced and due to the regeneration of the entire skin structure, the skin becomes significantly younger. Such regeneration is possible in a patented combination with Squalane oil, which acts as an effective delivery system, reaching the deepest layers of the skin. A-vitamin transformed into an absolutely unique and unimaginably effective anti-aging effect, as a result of which skin regeneration reaches 10-20 years younger skin indicators.
18. Tocopherol | is another source of vitamin E, which plays an important role in protecting the skin and the product composition from harmful free radicals. In addition, it also acts as a natural moisturizing ingredient that has the ability to reduce facial lines and wrinkles.
19. Retinyl Accetate | is a particularly stable form of vitamin A and has the same significant anti-aging effect on the skin, acting in parallel with and in the same way as Retinyl Palmitate. Compared to Retinyl Palmitate, it helps the skin's special cells to regenerate and improve sun-damaged and aged skin.
Beauté Pacifique Vitamin-A Eye Creme,15ml
Beauté Pacifique Vitamin-A Eye Creme Reduces fine lines, wrinkles and dark circles under the eyes caused by thin and transparent skin. Improves the elasticity of the skin of the eye area, restores the deep structure of the skin and protects against the effects of free radicals. Improves the elasticity of the skin of the eye area and reduces the formation of pigmentation.
Two types of vitamin A esters, encapsulated in natural Squalane oil, are delivered to the deepest layers of the skin by Beauté Pacifique's patented delivery system, which serves as a vehicle to deliver vitamins through the skin barrier. As a result of the action of active ingredients, the structure of collagen fibers is stimulated, it becomes denser and better organized, similar to younger skin. The skin becomes thicker and its transparency decreases. This eye cream gives everyone a visible improvement in the quality of their skin.